This is the last full week of camp for Harley. Monday he registers for school and transition classes...Monday Robert registers as a high school senior!?!? Kelly's a sophmore...her registration is on Tuesday. Also on Tuesday Zac goes in for another hearing test!! Then I get a little bit of downtime...well not really because that's when school supply shopping (which I shouldn't have much as I've been stocking up on all the clearance sales all winter / summer) and some clothes shopping...
BUT I can't believe we are just two short weeks from the end of summer vacation. No tubing trip this year because of the dangerously high waters and many deaths, even professionals due to drowning...and fast waters.
We are going vehicle shopping on Thursday or Friday this week. (Shooting for Thursday since Harley's in camp). The van we bought a few months ago has turned into the Money Pit so rather than sink another $800 and still not have everything fixed, we have decided to just buy a different vehicle using that money as a down payment instead while trading in this piece of crap. Too bad the cash for clunkers program only covers new cars...that would've been quite the deal for us...but a new vehicle is a little more than we want to pay...I'd rather have NO vehicle payment at all...but that's just not possible right now. Now that we have decided that we are NOT adding to our family unless some miracle happens for us we are able to look at smaller, newer vehicles. Now that our children are growing bigger we don't need as much cargo room either...and I feel like we would be better served with bucket seats as the second row to keep Harley at least arm's reach from all the other passengers.
Now, I have a few pictures to share too....
The boys really, really missed Kelly while she was in Lake Powell..this is her first night home....(really her first hour!)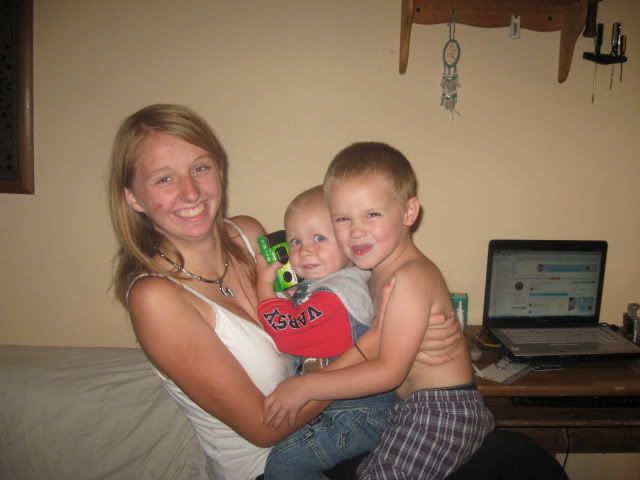 Zac has some of the greatest facial expressions! Since he still does not speak more than just Mom, Dad and sometimes Milk...we count on them (and so does he!)
And as depressed as I've been he still has the gift of making mommy smile