Our original plan was to celebrate on Friday or Saturday when all the kids' friends could come over, but Harley was like "No Way!! Zacky's birthday is Thursday, so he needs his cake and gifts on Thursday, not Saturday!" -- So we are going to do both instead...Hopefully Zachary will be better rested on Saturday..he was kind of tired doing it at 6pm...
Harley worked on icing the cake for the party we're going to have Friday afternoon or Saturday morning (all of the guests will be spending the night Friday but we have to do transporation to get them all home on Saturday, so we may end up having more time doing it Friday afternoon instead :) )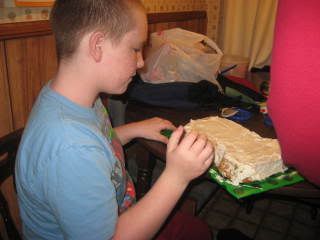 (we'll get a picture of the 'finished' project tomorrow)
Kelly and Tyler and Jenna and Nicole (Holly's girls) iced the two little cakes: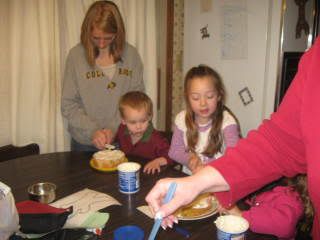 Zac's cake--
The other cake for everyone to eat--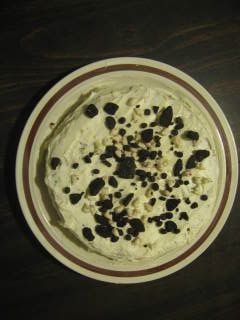 Zac loved watching the flame and would cry each and every time Tyler blew out his candle! I ended up having to relight the candle so Zac would dig into his cake :)
The candle was so much more interesting than the cake was...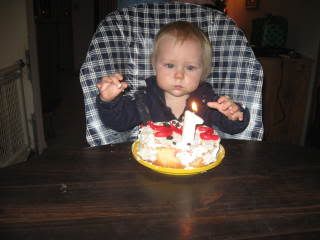 Not sure what he's supposed to do --(but you can tell he's been crying because he wanted his candle back!)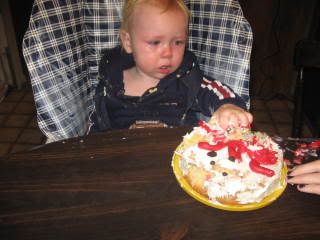 hmm..??? Not too sure I like this sensory experience!
OHHH!! Eat it!?!
Time for GIFTS!!
Drum / musical set -- we knew Tyler would confiscate some of the toys so we gave him something that had many pieces to make it easier to "share" with Tyler...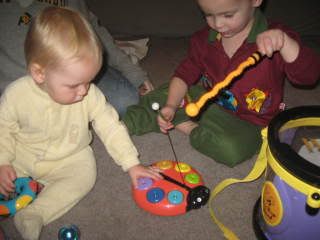 Kelly helped Zac figure out what the stick was for --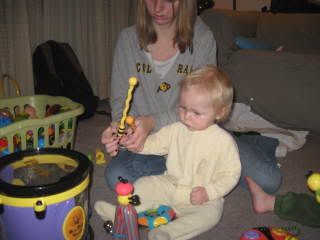 I think this was Zac's favorite though --
Ahh, I take that back...his favorite thing was running around with the Christmas ball in his mouth (all of our decorations are plastic!)...
We were planning to decorate the tree but between Tyler and Zachary, we may end up having only lights on the tree!
Kelly got a really nice picture of Tyler decorating the tree I just want to share! Oh and after Tyler decorated the tree -- he undecorated the tree so we can still get pictures of us decorating the tree as a family! =))
More pictures will come tomorrow or Saturday after the "bigger" party...
All in all, I think everyone enjoyed themselves and Zachary was thrilled to be the center of all the attention (even more than usual)...