Wow, Harley's almost bigger than Santa!! They had a little holiday party at Creative Perspectives yesterday and he got his picture taken with Santa...Wonder if he still thinks Santa is dead?
Question for y'all...Am I a bad mom for not taking Zachary and Tyler to get pictures with Santa?
In past years, Andrew dressed up as Santa--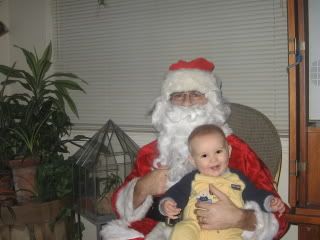 so it was easy to get the pictures, but we got rid of our Santa suit this past summer figuring he wouldn't do that as a side job this year with the expected arrival of Andi...Oh well, maybe we'll start it up again in a few years...It'll be nice to have him home on Christmas morning...although the extra money sure was nice!