(sorry copied and pasted from elsewhere!)
We took our kids and two extra teens to the amusement park this evening...We had a bunch of BOGO coupons. It was DH's first day of vacation! We've just planned to do things in the area that we don't typically do...well this trip was great...except...
we had had an incident with the operator of the bumper cars and Harley (our 12 yr old son with autism). Our 15 yr old daughter had offered to ride one of the bumper cars with him but since he was larger than the passenger height limits, the operator would not allow him to ride with her. we did not advise the operator that Harley is a speical needs child -- didn't feel it was necessary at the time. He wanted to ride this ride and we didn't see any harm in his riding it. He was not able to completely control the vehicle...no one had explained to use the gas pedal to move. (I was not able to go on the ride b/c I was with the 18 mo old and DH had taken our 3 yr to teh bathroom). Harley was sitting and turning circles when the operator stopped the ride and VERY rudely yelled at him and told him to get off the ride...My son does not respond well, even to those he does know and had no idea the operator was talking to him. The operator became extremely agitated and got closer and yelled louder. My son vacated the ride while my daughter went to the operator and explained that he was autistic and he did not understand what was happening and the operator yelled to all visitors "if he is autistic he shouldn't even be here".
I was of course infuriated but causing a scene at the time would've proven nothing. I informed the operator that I would be contacting management regarding his comments. And I planned to deal with it when I was calmer and after my family had had a chance to have FUN on our outing...
Well, that's not the end of the story...Our 3 year old son Tyler was injured while riding the kiddie land 'racecars'. It seems something broke in the car and came up and hit him *almost* in his eye...this is where he must've had a guardian angel...because it narrowly missed his eye...but hit the corner of his eye...This picture is after he was a little cleaned up and the bleeding was stopped...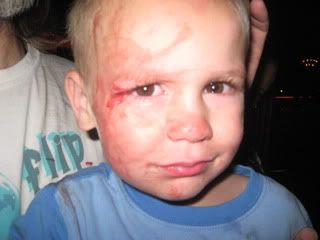 Here's a pic taken literally SECONDS before the accident:
so off to the ER we went......I have to say that the staff dealing with this seemed more concerned for our son's safety than protecting themselves from lawsuit (which I am sure I will NOT do anyways)...
he received 4 stitches in the corner of his eye. I am grateful that he wasn't hurt worse...literally a centimeter to the right and he would've lost an eye!!
They are investigating and we will be in contact with them first thing we can (the park opens at 1:00pm).
To top it all off, my 17 yo DS had to watch Harley in the waiting room at ER for about 5 minutes...when I came back he complained that Harley was "acting like a retard, pacing and stuff" the whole time I was gone. It was just the last straw! I reminded him that autism IS a form of mental retardation and he's just gonna have to face that fact. I just couldn't believe he would complain about that...I mean we could've taken Harley into the triage with us...?? IDK this is the first ER visit we've made with all the children in tote...
And at 2AM I sit here, with my 3 yr old sleeping on the living room floor and I don't mind because they told us to watch for a head injury so now I can't sleep for watching him!!
So how's that for a first day of vacation outing?
Anyways, so sorry it's so long...