Andrew's Birthday (3 weeks ago!) -- Sorry not many pics here...
The birthday "boy"
Andrew, his wife (me :)) ) and Tyler: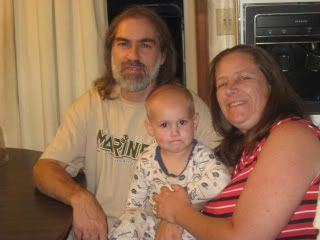 Harley, showing how big his mouth is so he can eat the WHOLE cake in one bite!
We didn't have an exciting cake and he got some toys for his birthday (so the boys would have something to open and play with daddy with!)...he's so sweet! I really think it's because he's going through his second childhood!!