Today during tummy time Zac rolled over!! From Belly to back!! I am so excited...He's done it before, but I don't think it was on purpose...This time it was DEFINITELY on purpose! I'm so proud of my littlest man!!
Yesterday we made a trip to the Zoo with the December 07 Colorado Moms! It was a great time.
Here's a group picture:
Here's a picture of Zac and Paul playing with each other's hands: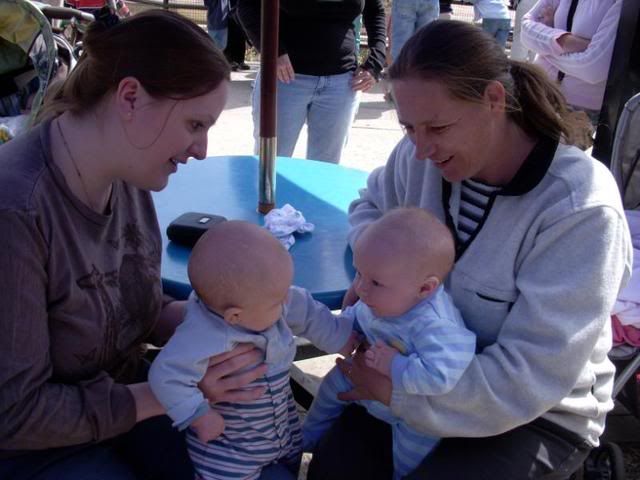 Here's the Stroller Brigade!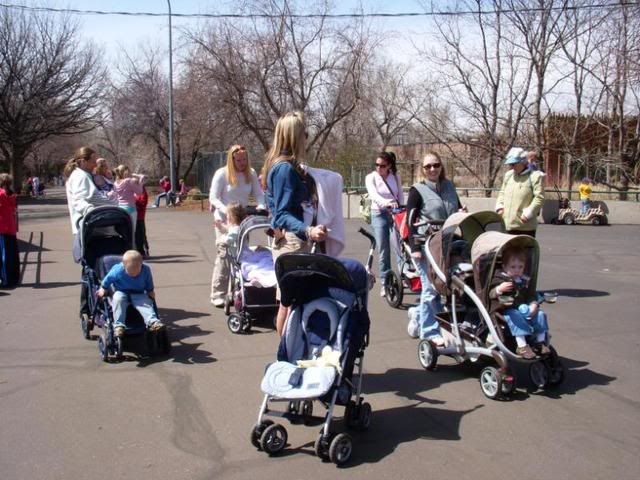 I took an FRER today -- my last one I promise...No pics as I'm sure everyone's getting sick of seeing them. Guess what? I'm still pregnant. I'm determined that I will NOT stress over losing this baby and run to the dr for every little twinge! I want to enjoy this...my LAST pregnancy (yes, for real this time!)
Oh and Harley had an AWFUL day yesterday!! First I had to lift him into the shower today b/c he said the water was 'monster blood'...(This boy is 110#s!! and nearly as tall as me!)..so he screamed the whole way through the shower and I got scratched and soaked...
Oh Monday night at homework time, he had to do a math worksheet (using a calculator) and got so very angry he tore his paper and crumpled it up...Then we taped it back together and made him compromise and do one line of it...(about 10 problems of simple multiplication).
Anyhow, back yesterday..We got a call from his teacher (well, I didn't--Dh did... I was out and about at the zoo with the Dec07 moms!!!) Harley verbally and physically 'attacked' his aide at school today b/c he didn't want to do reading!
After school they picked him up for behavior therapy and he refused to go with them for the first 15 mins or so (he didn't want to get into the car for some reason!)...Then the activity they took him to...He didn't want to do (Junglequest) and had another meltdown...When they finally got him motivated to try SOMETHING at JungleQuest he made it 1/2 way through the 'challenge' became 'scared' and 'afraid of heights' (yeah, right!!??) and turned around then did a bunch of negative self talk and had a total emotional breakdown!! So it seems his psychosis is overtaking the autism (or is it making it worse?)...Ugh, I wish I could find meds that would help him without turning him into a zombie!!