Since Andrew's dad started coming over to see us, he has always brought with him some ice cream. It is a tradition (although we see him only once or twice a year). A few months ago, grandpa was diagnosed with kidney failure and bone marrow cancer. He has since been released from chemotherapy, but continues on dialysis three times a week. Yesterday the whole family got together for a celebration of his life...And called it a family reunion as well...Some of the cousins and aunts and uncles in attendance hadn't seen Andrew since he was about 3 years old (40 years ago!!). It was a fun time but by the end of the day I was so exhuasted!!! After running after Tyler nearly all darned day long I was having contractions so I had to pamper myself when I got home...Boy was I hurtin'!!
BUT we got some pics I wanted to share!
Andrew and his dad: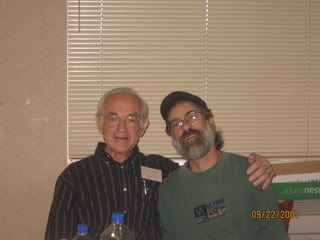 The parents and "the kids!" (Andrew's the youngest!). This is the first time they have all been together in over 25 years!!
Raymond and his brood (Wait! Matthew's missing!)...He's off swimming in the pool!!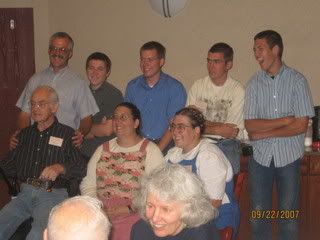 And our Motley Crew!!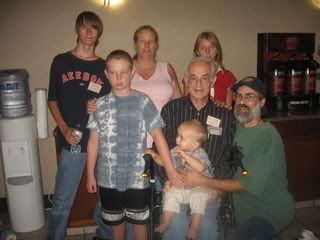 Terry wasn't able to bring her family and we missed out on getting a group photo of Tom and his significant other with her kids...There's supposed to be some e-mails coming my way with pics of those I missed out on!!
Grandpa Ice Cream ended the day by saying that he's going to wait around long enough to meet #5 -- Baby Zac!! It brought tears to my eyes!!